C2C Leg#3 Day 25 Shady Grove to end our ride in Nashville - bike nirvana followed by bike hell
7/22/21
Day 25 Shady Grove to Nashville
Miles: 57.7
Total Miles: 1204.1!!!!! That's the end!
MyZone MEPs: 704
I've waited a couple of days to write this post because I think I don't want this bike trip to be over. I love the challenge of each day's ride and the prospect of seeing new places and meeting interesting people. On the other hand, there is no way I could have ridden another moment on my bike seat because of some excruciating saddle sores... my body is tired and 4 weeks was enough. So here we are enjoying Nashville! Here is our ride to get here...
We get another early start with some good brewed coffee from the lovely Apple Farms "Glamping" cabin and a bowl of instant hot oatmeal. It was a perfect last night on the trail.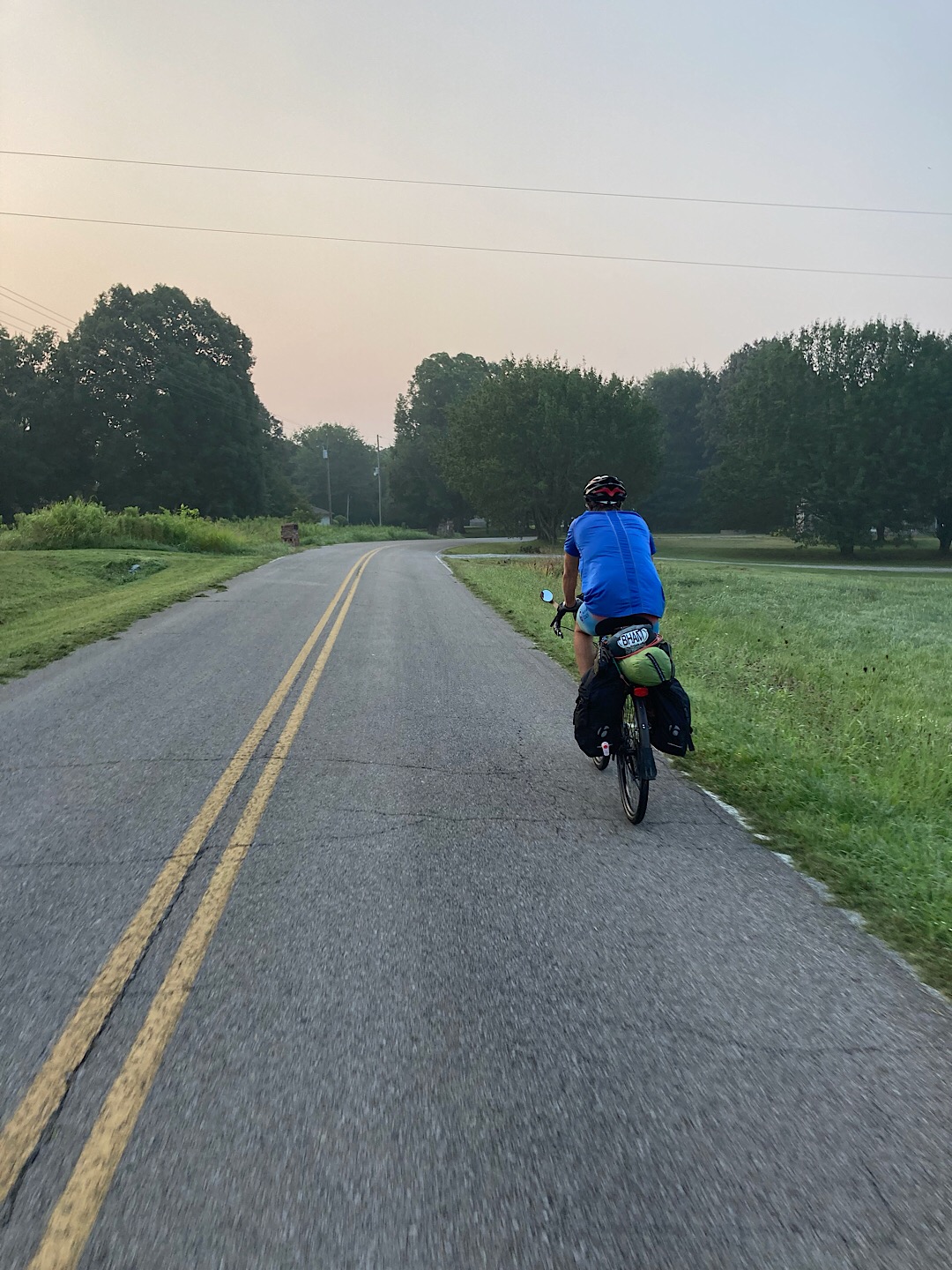 We are a little melancholy to start this last ride of our trip into Nashville and I have trepidation about sitting on my saddle all day. We have a joke about "negotiating with the host" (from the movie Independence Day) where our host refers to our saddle sores' negotiation with the seat. I'm having that particular conversation all day. It gives the joy of the ride an undertone of pain. OK OK enough. Let's get on with the ride.
Today we ride the Natchez Trace to Nashille. It is a limited access scenic byway - so we have to figure out how to get on the route. Doug sees on the map a different way to get back to Shady Grove - but we didn't know that we'd spend half an hour on a jarring, bumpy, dirt road. Not good for my tush.
Finally, pavement, and on to the Trace entrance. The air is heavy with haze/fog/smoke (from Oregon fires) which gives an eerie quiet start to our ride.
The Natchez Trace is a national park with very limited access and 2 lanes of smooth winding road with 40 to 120 feet of wooded buffer.
There are bridges and underpasses to assure no connection with roads and no big hills. And almost NO cars! Basically a huge, perfect bike road. On to Nashville!
We pedal peacefully on the Trace for about 40 miles.
No clouds, no wind, and early enough so it's not too hot.
We stopped on 2 bridges for snickers bars and gatorades.
4 hours of biking with little distraction (other than sore butts) with lots of time to think about the highs and lows of the trip.
We are at a high on the road where we cross the Tennessee Divide.
At the Tennessee Valley Divide, water on the west side flows toward the Mississippi River, on the east flows toward the Cumberland river.
I spend a LOT of time standing and pedaling today as I cannot find a tolerable way to sit on the saddle. Pain is wearing on me. I'm glad the riding is so easy today (no cars, light on the hills).
We finally get a view out over the valley below. Stunning!
This sign cracks us up so of course we start weaving all over the road.
At the end of the Trace, we loop down to SR100 and bam, total change. Busy narrow road with a rumble strip (rumble strips are really hard for us - there often is not enough room to safely ride on narrow shoulder to the right of the rumble strip so we have to be out in the road farther than we want. And if you hit the rumble strip it can throw you off balance and into traffic).
We have 14 miles to go to finish in Nashville. About 6 miles on SR100 is busy with cars at 50mph, loud and nerve wracking. -sorry no pictures here- I could not take my hands off the handlebars.
We finally get to the Music City Bike Route...
which is well signed and brings us in though peaceful neighborhood roads
On a bike path
next to a golf course (what the?)
until the final miles.
The last 6 miles on 24/70 "Charlotte" to Nashville's downtown core was the most dangerous part of our entire trip. 4 lanes (2 each way) with heavy traffic, stop lights,cars, busses, delivery trucks, no shoulder, we simply had to take over the lane and hope cars would make their way around us.
We stayed close together, constantly yelling out warnings about cars, potholes, lights, and directions.
And then... we made it.
1,200 miles through 7 states in 25 days in the middle of this beautiful country called America.