C2C Leg#3 - Epilogue: the Top #5 including an apology to the Raccoons
7/30/21 - Back in Bellingham, WA
Sigh.
We made it. After an epic journey like we just had, it can take a bit to adjust to normal life.
As I return to work, so many of our friends and members here at the Bellingham Training and Tennis Club ask me... how was it?
The hard thing is trying to put into words what riding your bike for 1,200 miles is like.
What it is NOT like is sitting on the beach, sipping Mai Tais.
It is NOT relaxing, not a party, not unplanned free time.
But it IS SIMPLE. Each day our entire focus was on getting from point A to point B and that takes planning and teamwork.
Each day we were concerned with things like wind direction, weather, temperature, shade, road terrain (hills or flat?), location of services (convenience stores or grocery stores), number of miles to ride, and if we'd be cooking and camping or restaurant and motel at the end of the day.
We would review the maps before we started, trade who was leading (we always rode within a few feet of each other), with the lead calling out road hazards (potholes, obstacles in the road, cars entering the roadway...) and the 2nd calling out cars and trucks coming up from behind.
And a lot of time pedaling our bikes - from 4 hours to 11 hours per day - average of about 6 or 7.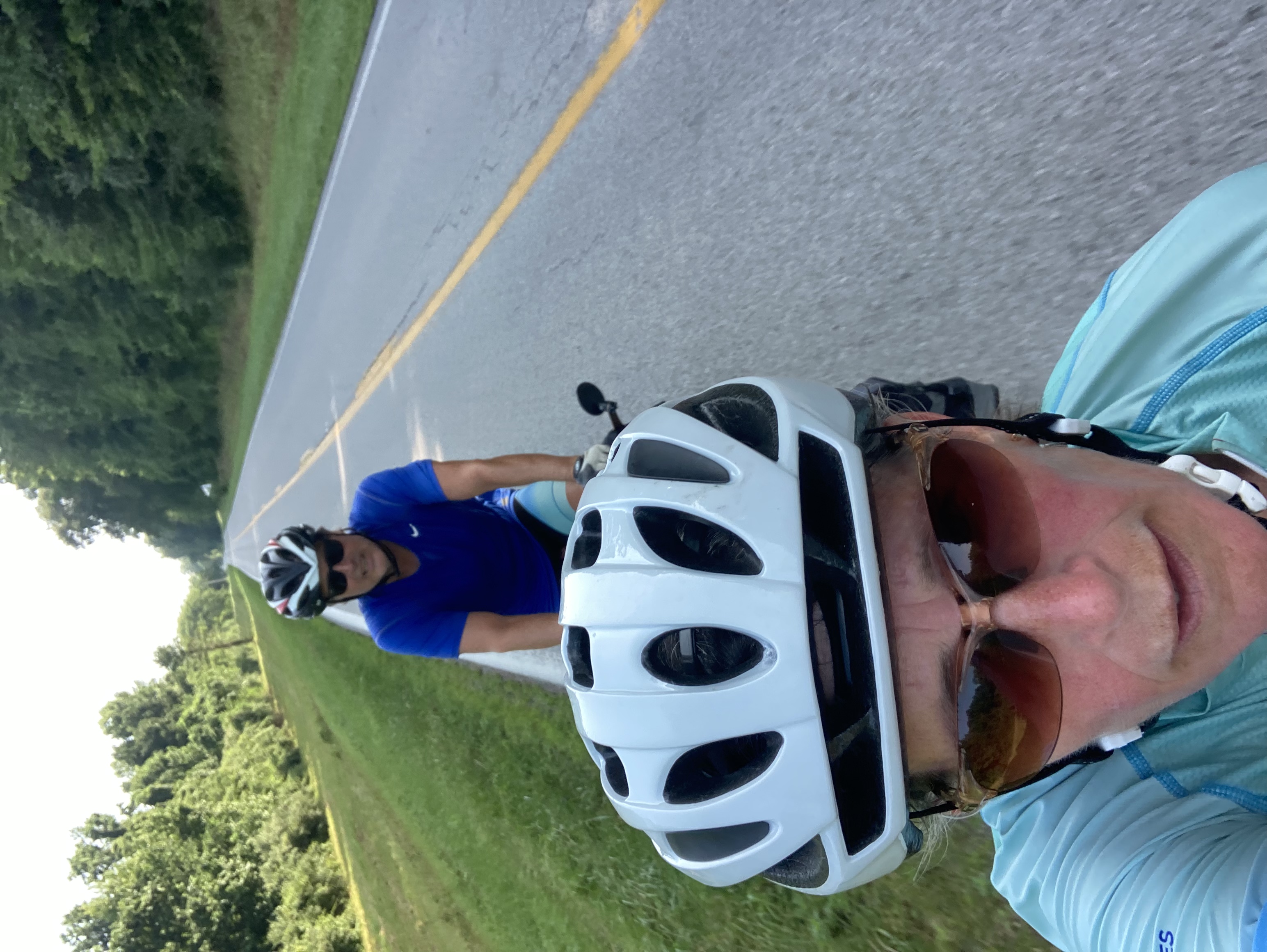 All that time gives you the chance to empty your mind. To think small thoughts and big thoughts. To get comfortable with the quiet sounds of riding on the backroads. No, we do not ride with earphones and music or podcasts. We want to hear the birds chirp and get absorbed in the environment (not to mention the importance of hearing oncoming vehicles).
Is it hard? YES.
Did I ever want to stop? OH YES.
As one guy yelled out from his yard "Do your legs ever get tired?"
YEAH, THEY ARE TIRED MOST OF THE TIME
So WHY travel by bike?
Adventure! On a bike you are going fast enough to get somewhere but slow enough to hear nature, stop to read the historical markers, and meet interesting people along the way. I love to visit new places and pedaling your bike there via the backroads is an incredible way to see the world.
And there is a HUGE sense of accomplishment every single day thinking that "I did it! With my own body, on my own two wheels, carrying all the stuff I really need and riding with my best friend in the world (that's Doug, my husband)."
KNEES - How'd they Do?
You all know I've had both of my knees replaced (2017 & 2019). 1,200 miles is a lot to ask of any body part, much less it being bionic.
How'd my knees do?
At an average of 85RPM, for 6 hours per day, that adds up to 30,600 times my knee is bending through each pedal stroke.
Every day - or more.
AND MY KNEES ARE FANTASTIC! NO pain throughout the entire trip. It's a #ConforMIS miracle (that's the custom knee implant that I have).
Of course, you can't just hop on a bike and ride 1,200 miles. I put in months of strength and cycle training to be able to begin our journey. If you want help with your knees, please check out healthykneesformula.com. Its the 16 week program I developed to help you reduce knee pain, improve strength, and get back to the things you love. If you follow the program, I guarantee that you will get great results.
EPILOGUE
#1 Apology to the Racoons
I found my green socks tucked in a pocket of our green tent. I apologize to the racoons of Arrow Rock who I blamed for stealing my socks. They are not totally off the hook, though, because their shenanigans around the tent caused the worst night's sleep of the entire trip.
#2 Worst Dinner
Sorry Spotted Pig of Lexington, Missouri. You said you were known for your pork tenderloin...well you should be known for it being particularly BAD. Couldn't tell it was pork pounded into a wafer thin flat disk and deep fried into submission. This is not a dish I would ever recommend to anyone.
#3 Best Surprising Dinner
Way to go Stanton/Meramec KOA, Missouri. A couple owns the campground and the husband loves to cook ribs. We placed our order, with low expectations, and we were so surprised when we dug into our meal how tender and delicious it was.
#4 The Biggest Sad AHA
I'm going to say it and I do not mean to offend anyone... I was shocked to see so many obese people. Not just overweight, but morbidly obese. It must be tied in part to the scarcity of fresh fruit, fresh vegetables, and the depressed economic areas we rode through. Granted, we did not go far from our route to find big grocery stores (but were there any besides Wallmart?) and there was a plethora of Dollar General, Dollar stores, and convenience marts with packaged crap food. I ate a lifetime value of Twizzlers.
#5 Most Bliss
Thank you to all fireflies of the midwest - your twinkling lights in the twilight brought childlike joy to my evenings. My first sighting of these delightful sparks was at Waubonsie State Park in Iowa which ended our evening with a little magic.
And that is All... until next year
After a week and a half off my bike (to recover and let my saddle sores heal), I'm eager to get out riding again. We've already started talking about next summer...
I love sharing our journey with you, but as you can imagine, it takes an hour or two every day (especially with weak internet connections) to write and upload pictures.
If you liked following our trip (and maybe are glad that it wasn't you on the saddle), I humbly ask you to please donate to one of the organizations below. Our Jingle Bell Robin's Reindeer Team is ready for sign ups!
~Robin Robertson