C2C Leg#3 Day 24 Waverly to Shady Grove/Duck River-spectacular ride on state route 230
7/21/21
Day 24 - Waverly to Shady Grove/Duck River
Miles: 54
Total Miles: 1146.4
MyZone MEPs: 735
We were a little melancholy to start today's ride, since we only have 2 days of riding before we get to Nashville.
Up at the routine time of 4:15am. Made fairly decent coffee in the room's coffee maker, heated up water in the microwave for instant oatmeal, packed up (less stuff! no front bags since Doug mailed them home yesterday) and started riding at 6am just as the sun came up.
Leaving Waverly, we decided to skip the side route and ride state route 13 - it cut off a few miles and had a few less hills. I'm worried about saddle time with my saddle sore. But the road had a wide shoulder and light traffic and that was good.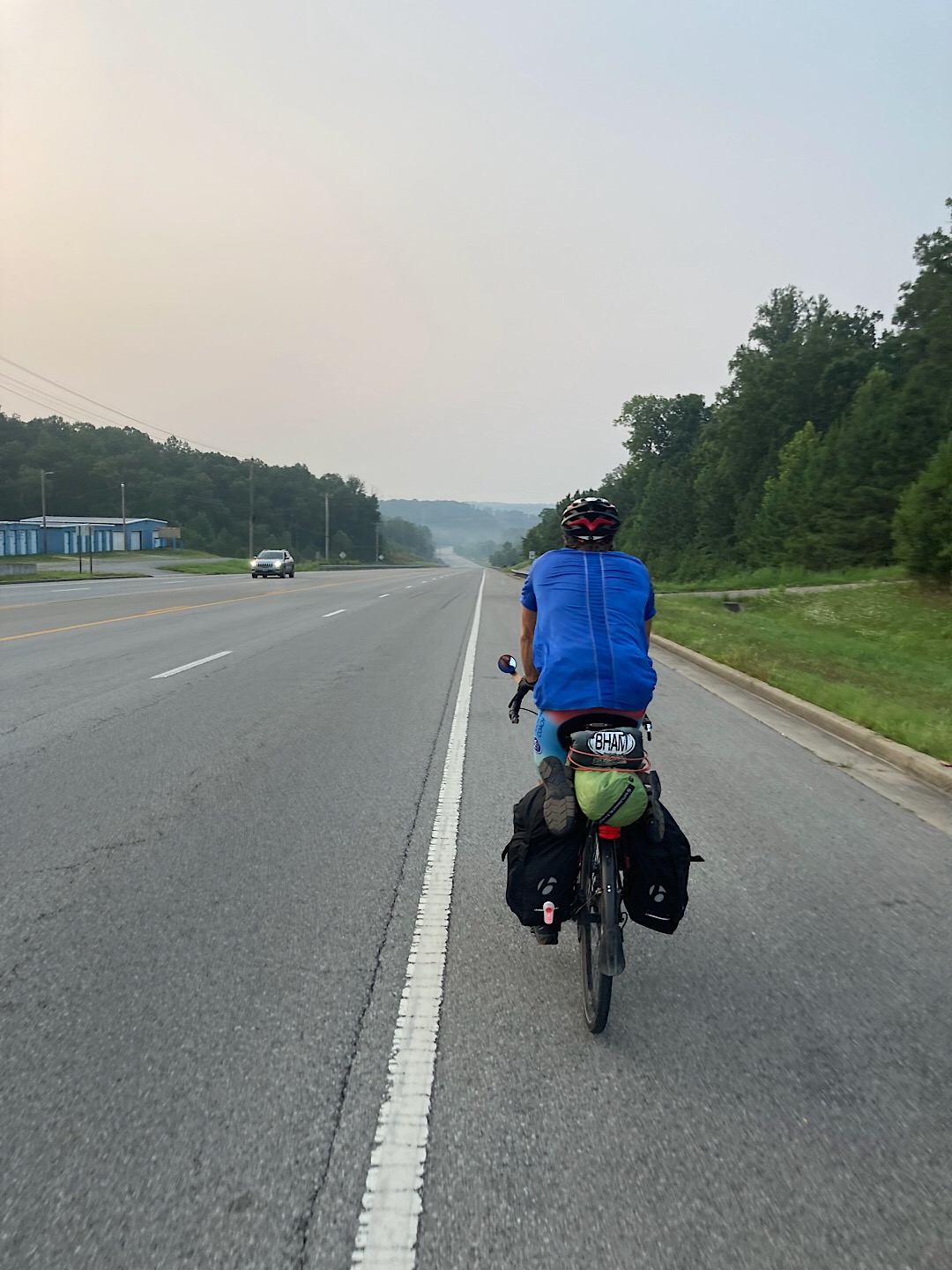 We turned onto state route 230, a smaller road with a small shoulder - but it was quiet. We were expecting another day of "dinner plate specials" (long medium-steep hills) and... it was much more gentle than that. 6% Hills mostly.
It is a little unnerving to me to see so many confederate flags hanging at houses...
We had about 20 miles on 230. There was a haze in the distance (smoky from Oregon fires?) which made for an absolutely beautiful sunrise over the layers of distant hills. The air did not seem smoky to breathe.
The creeks that we pass over are pretty, rocky bottomed and clear, no longer like the chocolate colored water and muddy banks like when we were near the Missouri and Mississippi Rivers.
We stop for our 15 mile-ish snack (snickers and payday - we have nearly run out of our other bars ad what the heck - when else do we just get to eat candy bars?)
As we are getting ready to go... my back rack BROKE! OH NO!

But on further investigation, it has simply come apart because a couple of bolts were loose. A relatively quick fix and we were on our way.
We see another relic of an iron furnace from 1833 where they found ore nearby next to the surface, but then ran out quickly.
The only place with stores was Nunnelly - we got some water to restock our bottles.
We stop in the shade of a church for a banana and Gatorade, then turn onto highway 48
which was OK, then busy highway 100 for about 7 miles. Narrow shoulder rumble strip is hard to ride.
We are glad to see highway 230 again - quiet, great road, few cars for about 9 miles.
We are always happy to see the "truck triangle" (steep downhill ahead) sign. We've seen far too few on this trip.
We had another snack stop in the shade to mop our faces and turn onto highway 50 that will take us to Shady Grove/Duck River. It's a busy road with big commercial traffic.
We notice the turn off for Moberly Ridge Road which is where we need to go for our Air BnB cabin for the night. Of course, its at the top of a very steep long hill.
We swoop down the hill and stop at the Duck River Market, planning on buying supplies for dinner.
Uh-oh, there are only coolers full of drinks and prepared sandwiches, fried chicken, and pizza. Go to plan B - eat a big turkey sandwich now (with potato chips) and save our ham slices for a meager dinner at the air BnB "cabin" that we have reserved. It is too far back to the grocery stor that we forgot to stop at in Nunnelly.
We chat with "David" a (retired?) Methodist pastor about life choices (don't buy a car until the other one is worn out, don't spend more than you earn, always save so you have some for later in life). He was waiting for something to be fixed on his car across the street.
Rather than pedal the highway, we take the back - and rather steep (10%) roads to get to Moberly Ridge Road
and find our Air BnB at Apple Ridge Farm, an expansive property that rents out for weddings and events.
It is perfect! First things first, strip off the shorts and go shower, rinse out our clothes and hang them to dry.
The showers/toilets are in a separate building.
And here is inside our cute little cabin...
Then we have an afternoon of naps, relaxing, reading, playing cribbage, and sipping a toast to our last night on the road. We head to Nashville tomorrow to complete Leg#3 of our Corner to Corner bicycle ride across America.