C2C Leg#3 Day 21 Cave-In-Rock to Kentucky Dam Village - surprisingly great bike touring
7/17/21
Day 22: Cave-in-Rock (Illinois) to Kentucky Dam Village Resort State Park (Kentucky)
Miles: 54
Total Miles: 991.7
MyZone MEPs: 714
We were prepared for hills today and were surprised by the empty roads and flat to rolling terrain. No cars passed us for 20 miles - then only 3 in the next 10.
We warned Wolfgang that we'd be up early (4:15am) to try to catch the first ferry across the Ohio at 6am. Since we were literally sleeping tent to tent, he got up and we made coffee for him as we packed up our things by headlamp.
The ferry has been making this crossing since the 1800's and is FREE, paid for by the Kentucky department of transportation.
We made the first ferry and into Kentucky!
We had 16 miles of undulating, quite road - no hills over 6% (a relief) and zero traffic.
At 16 miles, We had a snack at the Ohio river with a steep climb back to the main road, but it was worth it.
We rode up and over some hills ending with a 12% downhill (!!) BUT we couldn't go too fast because the road was rough. Glad we didn't have to ride up it. That was to Birdsville - no services - but a boat ramp marina where we had another snack (at 33 miles)
Before Smithland, we cross the Cumberland River on an old narrow bridge.
Then easy riding with 10 miles to Smithland where we stopped at a poorly stocked grocery store and got ham in a package and gatorades. Had our "ham on bread" lunch across the street in the shade.
We are in Livingston County rich with history...
Steep climb out of Smithland onto state route 453 and decided to stay on that instead of a side route. It was a serpentine rolling road with Some traffic, but cars gave us a good pass around.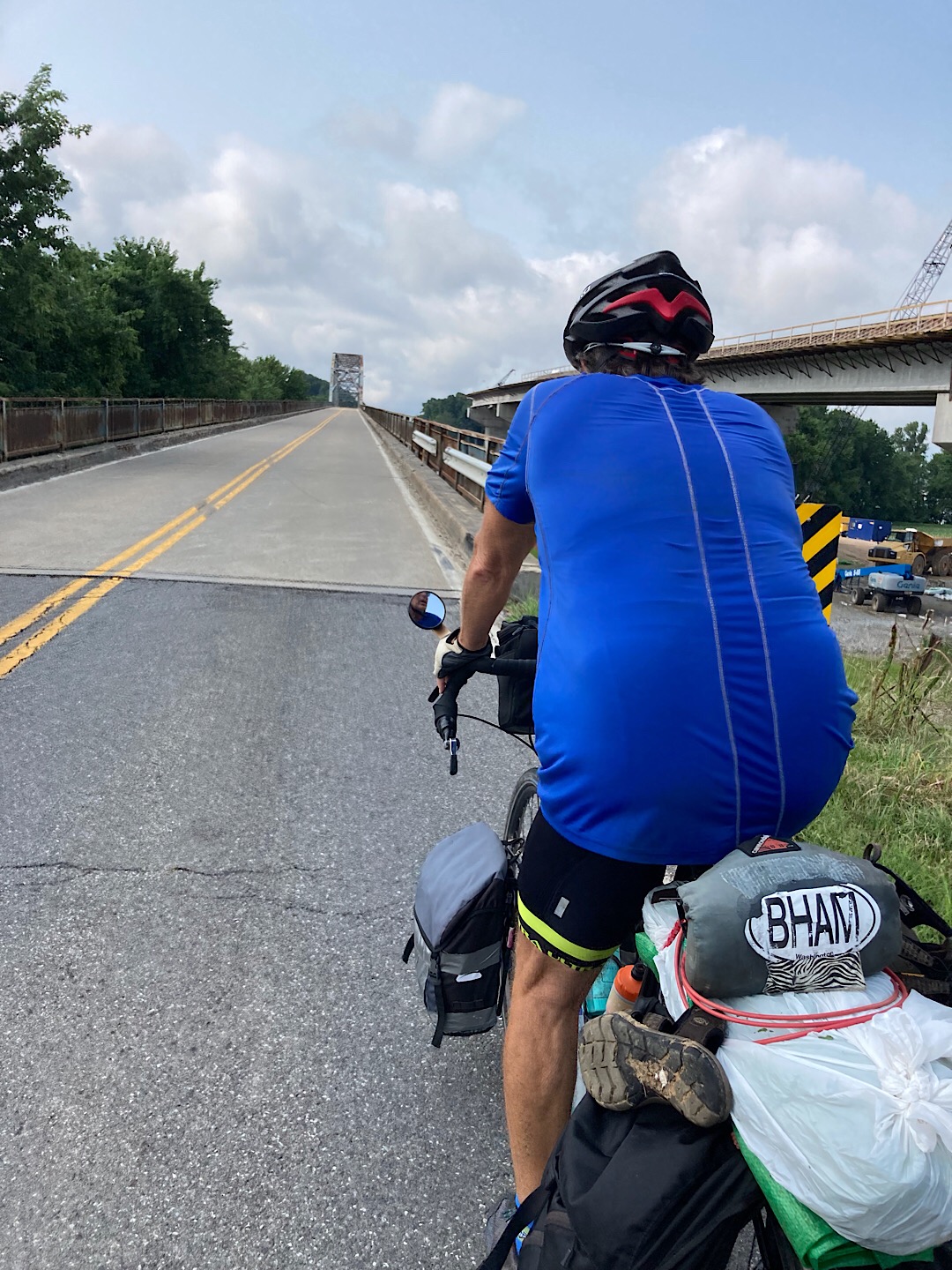 We intersect with I-24 and saw the first sign for NASHVILLE! Woo hoo! Getting closer...
We cross the bridge next to the Kentucky River Dam
and find a bike path that leads us right to the Kentucky River Dam Village Resort State Park (that's a lot of words). We get there around noon- hoping to check in early, but they say come back around 2:30.
So we eat lunch in their restaurant (all you can eat fried catfish! Hush puppies! Grilled chicken sandwich for Doug) find a place to lay out all of our Wet wet wet gear - tent, tarp, rainfly, air mattress, sheet, sleeping bag, .... in the sun while we wait.
We go back at 2:30 - its still not ready. So we read books in the lobby (I might have taken a nap too) and then at 4pm its still not ready. What the heck?
We ask again, they call housekeeping (no answer) and the clerk goes to the room to see if its ready - YES and probably has been for hours. At 4:45pm we finally get into the room.
Back to the same restaurant (because its the only one for 10 miles) with the same waitstaff (they are short staffed) for live music with Ryan Gilchrest playing acoustic guitar and mostly 70's cover songs that was just perfect to go with our flight of Kentucky Bourbon and fried green tomatoes.