C2C Leg#3 Day 20 Karnak to Cave-In-Rock: a cruise along the Ohio
7/16/21
Day 20: Karnak to Cave-In-Rock
Miles: 63.7
Total Miles: 937.7
MyZone MEPs: 970
I am writing this on 7/18/21 as we hide from the rain and thunder in the Kentucky Dam Village camping area laundry facility.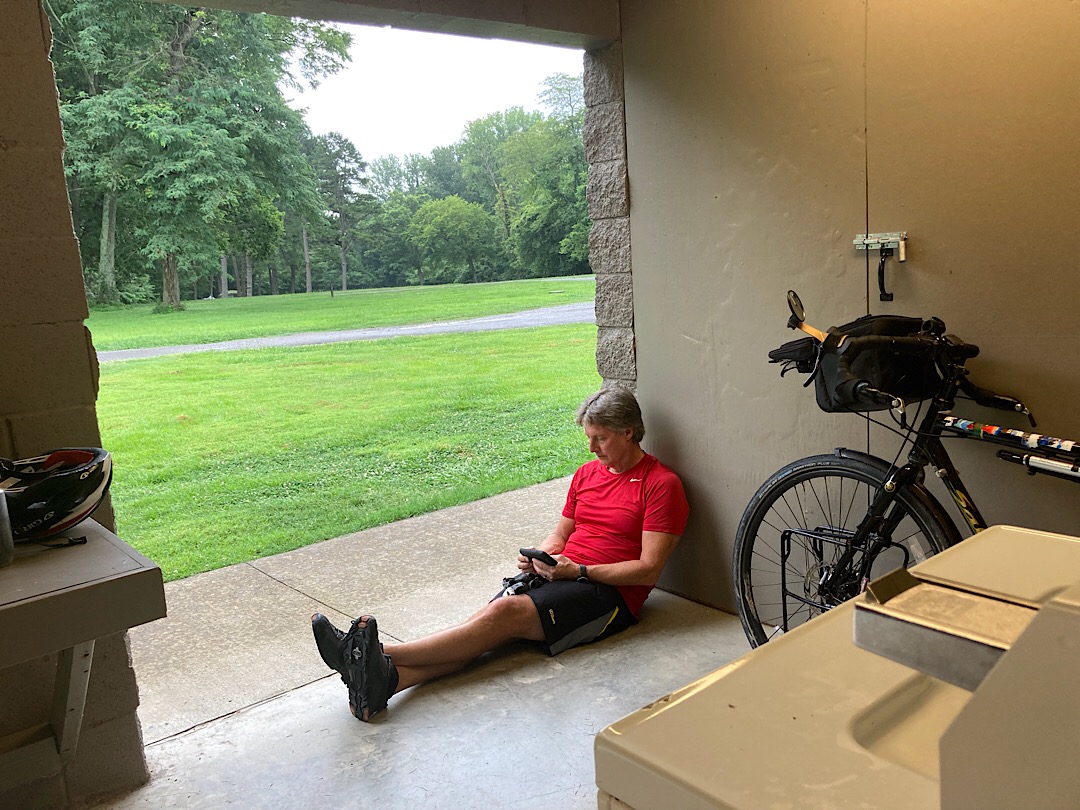 Yesterday we moved the tent and all of our gear 3 times trying to find shade, high ground, and a little more privacy since we realized we put the tent by a through road (not a dead end).
SO - this morning I cannot find my cycling sunglasses. They must have dropped somewhere and I'll have to wear my costco bug-eye specials with "cheaters" in the lower part.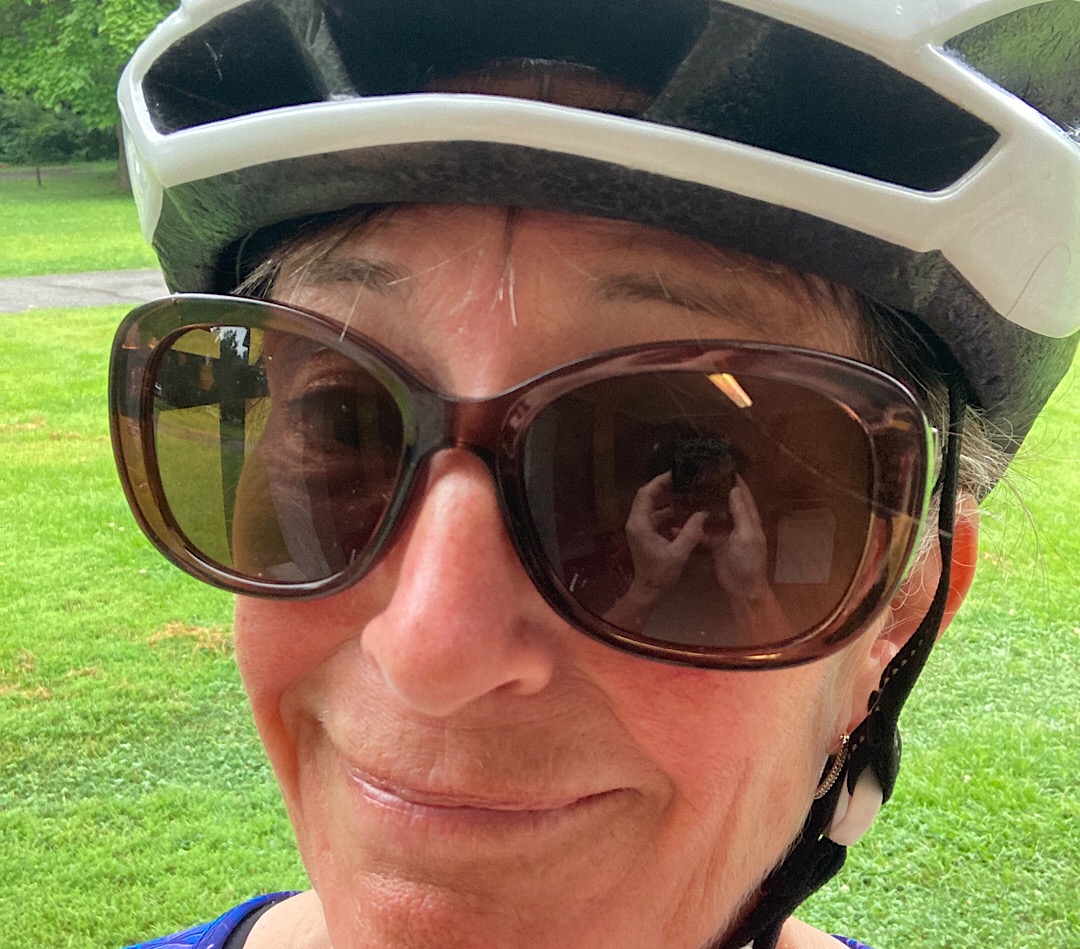 We are on the road by 6:15am - knowing we have a longer ride ahead and want to beat the heat. It takes too big of a toll if we have to ride in the humidity-heat in the afternoons, so an early start is best.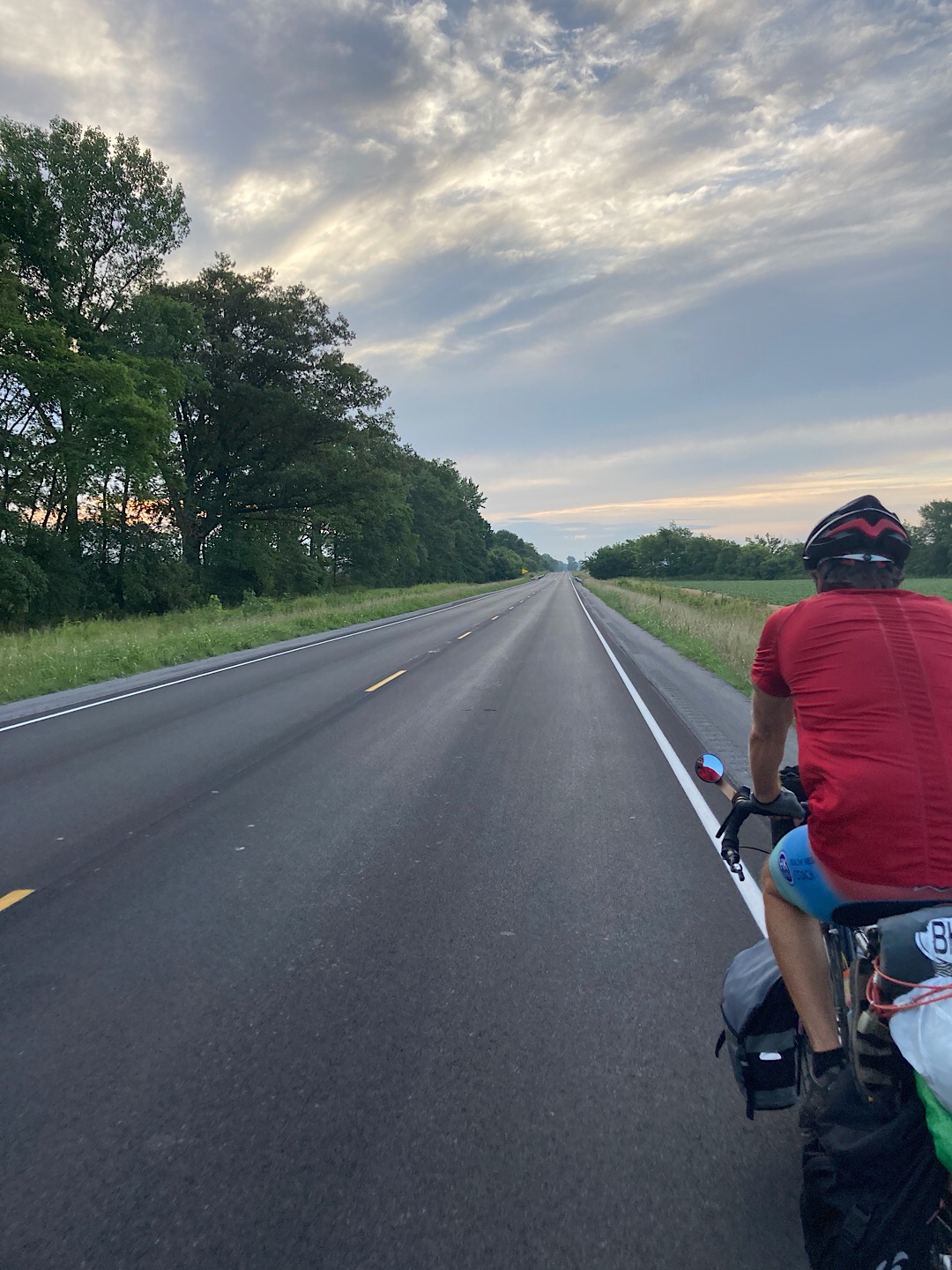 Our ride begins with refreshing flat-ish roads. Temperature is in the 70's with light cloud cover. It is peaceful, very few cars, and the roads are smooth.
The first 30 miles had "nothing" towns (Boaz, Mermet, Round Knob) and smooth riding. We see some beautiful homes, old weathered houses, and wrecks of homes all in the same area.
We have another roadside stop for a snack before continuing our cruise along open roads. We listen to the many bird calls and see bluebirds, cardinals, hawks and lots of blackbirds around the corn fields.
We notice that the Fields's are not all tilled and planted like in Missouri and Iowa - more cows and some horses here - makes us think the land is not as fertile.
The streams and rivers are back to looking muddy again (in the Ozark they were a little more rocky and clear running) and the water seems to seep everywhere.
In Golconda,
we stop at a grocery store and the checker cannot fathom that we've ridden our bikes from Karnak (30 miles away) much less wherever Sioux City Iowa is. I think the idea of travel has never dawned on her.
We take our groceries to the little school and eat ham & bread in the shade. Food choices are limited (haven't seen gluten free anything for ages) and Doug's bread is the "Baby Bunny Loaf". Thankfully I still have a few slices of GF bread left.
We have a little "digestion" time.
As we leave town, I see the cemetery protected by a flood wall at a river crossing...
Now we hit some long rolling hills, but still very pleasant to ride.
We stop in Elizabethtown convenience store and get cold drinks and sit inside in the shut down restaurant area.
As we ride out, we get the first good glimpse of the Ohio River.
We take the "Tower Rock" very hilly side road to get off the highway and after an 11% climb we find this cute "Bicycle Rest Stop" just past the top. So nice!
Unfortunately, we took a wrong turn
which took us back out to the highway (2 lane road with a rumble strip) adding a couple of miles to our route.
I was expecting a little more of a town in "Cave In Rock" and that we'd see more bicyclists since it is the convergence of 3 Adventure Cycling routes.
Throughout the town area there were bikes painted bright colors with baskets of flowers on the front. The are certainly welcoming cyclists, but we find out that the town's grocery and restaurant are closed.
We get to the State Park and there is a HUGE hill (of course) to get up into the campground. This time Doug says "I'm walking it" and so we push our bikes up to the camp host.
Steve, a salty retired miner, comes out and tells us to take a load off while he fills out our camp registration. He explains how he worked in the mines for 30 years but a big corporation came in and bought the 5 mines and shut them all down for a tax write off. That killed the town because folks moved away.
He said we "oughta set up tent under the pavilion cuz its lookin like a storm cumin in. "
We took his advice and in rolled another cyclist "Wolfgang" he's a retired English teacher from Germany who retired at 55 (thanks Germany!) and changed careers through study and internships and is now an assistant winemaker. He travels the world helping wineries to make wine. He is riding his bike from the westernmost lighthouse (Oregon) to the easternmost lighthoust (Maine?), then returns to Oregon to help make wine! Fun to compare bike travel stories and his surprise at the level of poverty he's seen in the south.
We walked over to see the big show - the Cave in Rock (where else are caves?) along the Ohio River. Indeed, it is a big cave with names and dates etched into the rocks back to 1804.
We had dinner at the only restaurant (thank goodness it was open) listening to the locals' gossip and watching the hummingbirds flit to the feeder at our window. Doug had delicious grilled catfish and I had BBQ Pork butt. Also delicious!
Back at camp, it starts to rain (the video) then the wind picks up to 40 mph and the thunder lightening and pouring rain drives us to a frenzy of somehow secure the rainfly, chucking our things in the tent to hold it down, clearing things off the tent floor because it is already soaked with a flow of rain runoff water pouring off the hill above right through the shelter under our tent. It's so loud...
It's all crazy enough that Doug, Wolfgang, and I all laugh. After the storm clears, we chat more with Wolfgang about politics, the differences in our countries, and how great it is/challenges to ride a bike.
Our bedding is damp, but it's warm outside and we have a decent sleep.